Image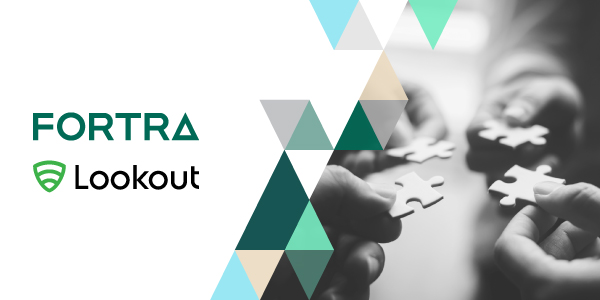 Editor's Note: This blog post was co-authored by Clayton Barnard, Senior Director, Global Alliances at Lookout, and Corey Markell, Associate Director, Strategic Resource Group at Fortra.
The first steps for any organization in creating a data security strategy are accurately identifying all of their sensitive information and securing that data from unauthorized access, regardless of where it resides. This is why I'm excited to announce the integration of Fortra's Data Classification Suite and Fortra's Classifier Suite, leading data classification systems from Fortra (formerly HelpSystems) with the Lookout security service edge (SSE) solution. With this, organizations are able to protect data in a way that doesn't hinder productivity.
Safeguarding sensitive data is an essential objective of any organization, but it has become an increasingly difficult task as data sprawls across various cloud services, and users connect from endpoints and networks your organization may not control.
Fortra's data classification solutions enable organizations to quickly discover and classify sensitive data they own. With this integration, Lookout is able to then take precise data protection policies based on those advanced labeling. The Lookout Cloud Security Platform — which has native data loss prevention (DLP) capability and can enforce policies across cloud access security broker (CASB), secure web gateway (SWG), and zero trust network access (ZTNA) — will ensure that your data is protected across endpoints, SaaS apps, private apps, and internet usage.
"Fortra is excited about the partnership and integration with Lookout, as many of our customers see the growing need to add additional data protection and DLP controls to their sensitive data, especially when that data is in the cloud and accessed from anywhere," says Andrew Tewksbury, managing director of Fortra's Data Protection group. "By leveraging Fortra's Data Classification Suite and Fortra's Classifier Suite, Lookout enables our customers to protect their data in this cloud-centric world."
How data ends up in the wrong hands
Remote work and the shift to using cloud apps has made it increasingly difficult for organizations to gain visibility and control over their data.
When your users are interacting with dozens of SaaS apps and collaboration platforms, you need to understand what types of data are being accessed and transferred. If the information you value ends up in the wrong hands, whether it's from unintentional data leakage, malicious exfiltration by an insider threat, or an outside attacker, the results can be devastating.
And while many organizations have begun deploying data classification systems, they need the ability to precisely enforce data protection policies, especially when your users are connecting from anywhere and your data resides in the cloud.
Whether it's intellectual property, sensitive proprietary information, or regulated data, the ability to efficiently discover, classify, and protect data is a huge part of any organization's security posture — something that requires security beyond perimeter-based solutions.
Advanced data protection with Lookout and Fortra
Fortra's Classifier Suite use a sophisticated approach to data discovery and protection, analyzing data and attaching labels so that effective protections can be applied at a granular level. With this integration, customers will be able to leverage the visibility and control the Lookout SSE solutions provide — with Fortra's Classifier Suite customers able to gain access in early 2023.
Lookout can both read and write Fortra data classification labels, which are then used by Lookout to enforce data protection policies across your organization, whether on premises or in the cloud. Lookout applies advanced zero-trust data protection policies to data labeled by Fortra, including threat prevention and sharing and collaboration controls such as masking, redacting, and encrypting data. Lookout also continuously monitors user activities to spot anomalous behavior, enabling organizations to identify insider threats and other attempts to exploit data.
Whether it's data creation or sharing in the cloud, sensitive information being transferred to and from private apps, or data traversing through the internet, this integration ensures organizations can precisely understand and control their data while at the same time enforcing dynamic and granular data protection policies.