Data Classification Product Overview
Text
Fortra's Data Classification tools (formerly Titus and Boldon James) apply visual and metadata labels to ensure data is protected and controlled wherever it travels. From user-driven to entirely automated, our solutions are fully flexible and customizable to meet your data protection requirements. Our multi-layered approach to policy and label design allows for the most specific/detailed policy and enforcement that your organization requires, with the ability to apply policies to most data types, including PDF, CAD, design documents, and more.
Key Features
Multi-layered tagging allows for an unlimited number of actionable identifiers to improve policy
Visual markings enable compliance with the strictest of government regulations
Persistent identification metadata stays with the data, allowing smooth integration into downstream security solutions
Fortra's Data Classification Products
Additional Products
Enforce communications protocols, comply with international standards, and keep your data secure.
Enterprise Address Book Multi Directory
Enterprise Address Book enhances Microsoft Outlook to provide users with a powerful and flexible way to search and explore address books across multiple LDAP directories such as Active Directory, IBM Notes, and IBM Domino.

SAFEmail® Military Messaging 
Enforce communications protocols and keep communications secure with SAFEmail® military and intelligence messaging.
Image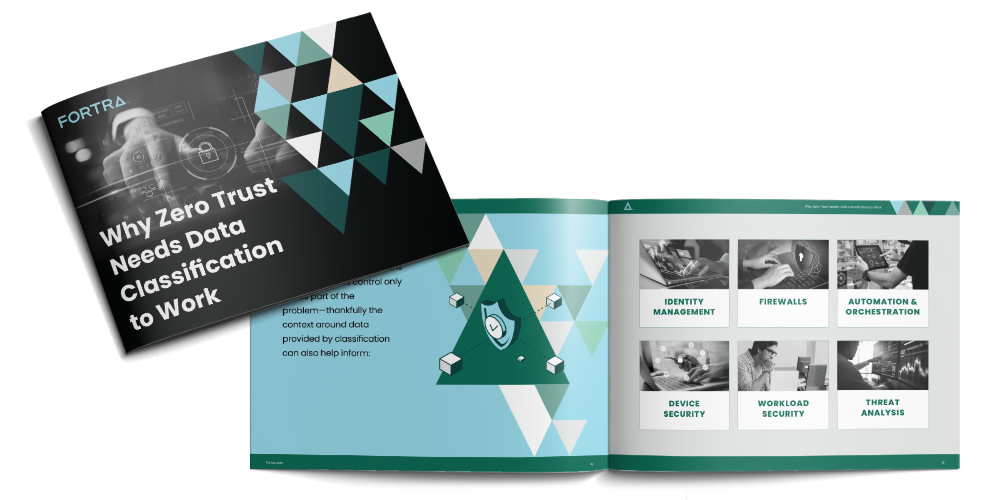 eBook: Why Zero Trust Needs Data Classification To Work
Read our eBook to learn how Data Classification adds intelligence and context to security ecosystems.  
What our Customers are Saying
1,000+ happy customers trust Fortra's Data Classification.
Left Column
Fortra's Data Classification has been a great help to the employees across my organization. It has given us the unique way of classification of the contents like emails and documents being used internally and externally.
Middle Column
Great administration console. Ease to administrate and create classification rules. You can enforce policies at multiple levels. Ease to integrate with DLP and SIEM.
Right Column
Data Classification provides an easy way to classify your files while saving and e-mails while sending via giving user a simple prompt window.
Text
Image

Why choose Fortra's Data Classification
Text
With unrivaled customer service and best-of-breed data protection and governance solutions, we are helping many of the world's most successful organizations take control of their business data. Every day, our customers enjoy more effective, secure, and streamlined operations - protecting their business-critical information and reducing risk.